Our seat material is the only one approved for INDYCAR racing and is the same material that is found inside your helmet. The D.O.T. approved bead forms better, has no porosity, and is unsurpassed in fit and finish. The material also has the proper density to support you while being considerably lighter than "poured" seats.
Bead Seats are the Pros choice! They can be found in winning vehicles in every catagory.
Our inserts are approved for all sanctioning bodies.
Please give me a call if you have any questions.
Thank you.
Jeff Garvin
The photo above shows Vinnie Deceglie in an unplanned seat insert test. He called me on Tuesday after the event to say the seat was awesome and he had not gotten even a bruise from the seat in the crash. The car was totaled. He had me come to CA and form an insert in his new car (which had a different carbon bucket than in the crashed car).
Please watch the video on our testimonial page of Terry Cox describing how his seat insert performed when he slapped the wall with his Nostalgia Top Fuel car. Just another satisfied customer after his unplanned seat insert test. He also speaks about how the insert helps with tire shake.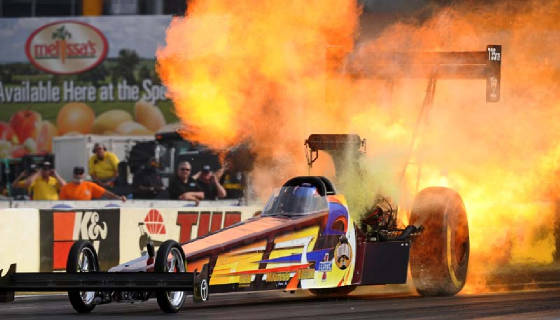 This is Steve Faria in his Top Fuel car at the NHRA Vegas 1 race in 2013. When he left the line the main fuel line came off the fuel pump and this fireball was the result. The fire came thru the lap belt openings and burned the belts and his firesuit on the butt and legs. THE SEAT INSERT WAS UNDAMAGED AND SHOWED NO SIGNS OF THE FIRE ANYWHERE! No discoloration or melting. It looked new.This was verified by the NHRA officials who came by the pit after the incident. I was there. The insert is still in his car today.